Call for sponsorship — help make GovCamp 2020 happen!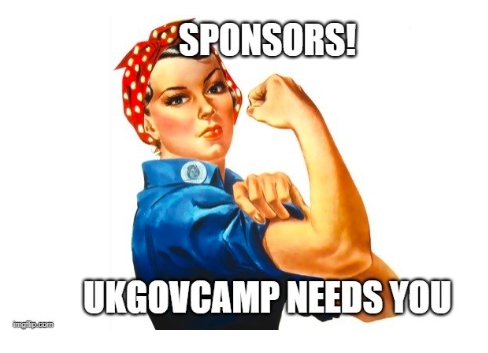 TL;DR: we are looking for lovely sponsors, help us make GovCamp 2020 happen!
On the 18th January 2020, GovCamp will return! We'll be hosting the event at the Ministry of Justice. 
As always, we're really excited and look forward to welcoming new Campers and returning Campers.  If you don't know anything about GovCamp, you can read more on our website, and read our latest blog post about the event. You have until midnight on the Monday of 4th November to apply for our lottery to have a chance of getting a ticket.
GovCamp simply couldn't happen without our fabulous sponsors, campmakers and organisers who help make sure Campers have an excellent day. We're so grateful to everyone who generously gives their time, skills and money to help us. And on that note, a shout-out to the lovely folks who are sponsoring GovCamp 2020.
Who's on board so far…
A huge thank you to DXW Digital, Notbinary, SUREVINE, Made Tech, PLACECUBE, We are Lean and Agile, Basis and Eternus Digital Ltd.
Why we need our lovely sponsors…
As organisers, our vision is to design and deliver the most inclusive event that we can. And to help us with that, we need people and organisations to provide sponsorship. 
Sponsorship helps us to run the event, to make sure GovCamp is free to attend, it keeps our attendees fed, hydrated and caffeinated. Most importantly, it helps us to support campers who would not otherwise be able to attend.
This year we introduced bursaries and a creche, which we will bring back in 2020, and would like to support even more people.  We also use money from sponsors to seed smaller community events, with recent grants awarded to Blackpool GovJam, OpenDataCamp and Leeds Gov Jam.
We're open about how much money we raise, and what we spend that money on. 
We have options starting from £250. If you would like to be a platinum sponsor, you can sponsor one of the specific components of GovCamp (pre/post drinks, creche, bursaries, coffee, etc).  If you can't afford to be a sponsor, but would like to make a donation towards our costs, you can do this through paypal at www.paypal.com/pools/c/8btG3Cw8YF 
You can find out more about becoming a sponsor on our website: https://www.ukgovcamp.com/become-a-sponsor/ and you contact us via a form at the bottom of that page.
We're always open to hearing more suggestions about ideas to make the event even more inclusive, and to answer any questions you may have. Tweet us at @ukgovcamp.