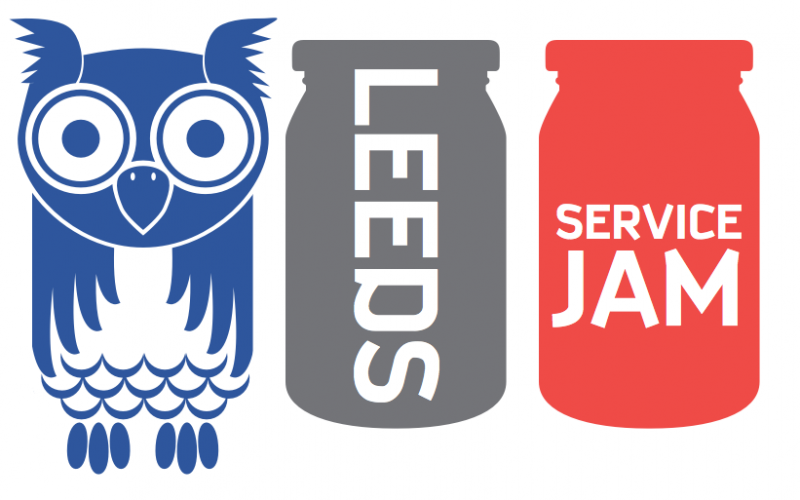 UKGovCamp is sponsoring Leeds Service Jam
Description of the proposed Event: Leeds Service Jam is a part of the Global Service Jam, an annual non-profit learning, innovation and collaboration event that connects thousands of people around the world. This year, Leeds Service Jam will take place from the evening of Friday 9 March through to the afternoon of Sunday 11 March.
Supported by a team of volunteer mentors and facilitators, Jammers will learn about service design by doing it. This means learning how to use design tools and methods, and adopting a Jammer's approach to problem solving. Jammers embrace a motto of 'doing not talking' because a bias towards action helps move people through the design process, from researching a problem to prototyping solutions. Jams are creative, playful, a safe space to test out concepts and make them into real interactive prototypes and services. Prototypes are tested on people, who give feedback that is used to improve the service in an agile, person-centred way.
Jams are about learning new skills and new ways of working that people can take back to their workplace, or use in their lives to help bring about positive change. Jams are about teamwork and learning how to work together effectively with other people.
Leeds Service Jam is open to everyone and anyone who is interested in design-based approaches to innovation. Jammers come from the public, private and charity sectors. We promote the Jams widely, including to local community groups and to students at local colleges and universities, because a wide range of people can benefit from attending a Jam.
How much they want: £500
What they would use the funding for: Funding will be used for jamming (prototyping) materials, food, renting ODI Leeds (a perfect jamming space that comes with great access to facilities and Wi-Fi that enables us to connect with jammers around the world, to live stream, and so share the experience online beyond Leeds), and generally paying for overheads of the jam. We are given the ODI space at a discounted rate for 2.5 days due to the non-profit community-focused nature of the event. As a team of volunteer organisers, we are open about our accounting, which is available via Google Drive, and never make profit from the Jams.
It is important to the open and inclusive nature of the Jam that we also make some tickets available to people on low incomes who may be studying or may not be working. For example, we have invited (and will invite once again) members from community-based groups such as Leeds Poverty Truth Commission to attend our Jams.
About them: My name is Lisa Jeffery. A Chartered Marketer with experience of delivering marketing and communications solutions to the corporate, public, higher education and charity sectors.
Since attending my first Jam in 2014, I have benefitted greatly from jamming. I have learnt about service design (the 'new marketing'), creativity, innovation and teamwork – and have gained in confidence through practical experience. I have made new contacts and even jammed overseas with Jammers who I met through the jamming community. I now help and host Jams in Leeds to enable others to benefit from this growing community, because I know that jamming can be transformative in creating change, in communities, in organisations, and in individuals. It's also a lot of fun and a good way to meet new people.