TL;DR: Hashtag = #ukgc20. Venue = Ministry of Justice, 102 Petty France, London SW1H 9AJ. Timings = Doors open 0900, pitching 1000, doors close 1700
Who can believe it, it's 2020 (ummm how futuristic do you feel right now?) and UKGovcamp is back! We are super excited to welcome each and everyone of you, and we've put everything you'll need to know in this blog post. 
But first, a big thank you!
We've said this before but UKGovcamp simply couldn't happen without the generosity of our sponsors. We are so incredibly grateful for your support, and for being a group of truly lovely people and organisations. 
The money we raise in sponsorship keeps folks fed and caffeinated, and ensures we can keep the tickets free for campers. Most importantly, it helps us to provide a creche and bursaries to help make our event more inclusive. We also use the money to reinvest back into the community to help fund other events throughout the year.  
Please pop by our sponsors stands during UKGovcamp – you'll find them on the ground floor (which is the entrance level). They really are a fantastic bunch who aren't here to give you the hard and boring sales pitch, but genuinely care about supporting our community.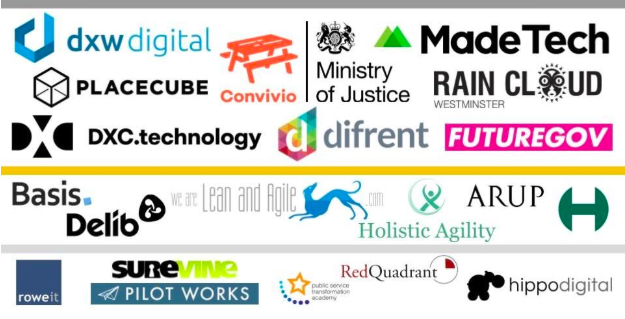 Our #UKGC20 sponsors!
What do I do at Govcamp?
If you haven't been to UKGovcamp before, we recommend reading these blog posts from previous Govcamps and fellow campers, which should give you an idea of what to expect. 
The day is for you. It's a unique experience, that you shape.
No two people have the same experience. You're already awesome just for being part of #UKGC20!
We start the day with attendees pitching the sessions for the agenda.  You can find out more about pitching from our blog post on what to expect and how to pitch. It's completely natural to feel nervous about pitching, and please know that we are here to support you. 
You can bring a buddy up to the front with you, or we can pitch the session you'll run on your behalf – just let an organiser or campmaker know. Everyone has a pitch inside of them. 
Logistics
Friday night (17th January)
Pre #UKGC20 drinks will be held this year at The Buckingham Arms (a couple of minutes walk from the MOJ). We have tables reserved for any #UKGC20 folk who are around in London, or perhaps travelling down to London to stay overnight. Come join us on Friday from 6pm. 
I'm sure there will be folk there till late, so do please pop in and perhaps start some of those #UKGC20 conversations early!  
Keep an eye out for the UKGovcamp team: @baskers, @veewilliams_, @ayymanduh, @DavidBuckster, @cholten99, @CrabLabuk, @JanetHughes, @mxhm9 and @_crmzchan_
Saturday (18th January) – during the day
Doors open: 09:00 
IMPORTANT: PLEASE BRING A GOVERNMENT PASS / IDENTIFICATION WITH YOUR NAME ON. 
Pitching begins at 10:00
Please make sure that you arrive no later than 09:30 as we've a lot to get through on the day. We will be starting at 09:45.
After the pitches are finished we'll update the Session Grid, with all the talks, room allocations and links to the live session notes. There will also be a more mobile friendly version of the session grid, provided by Convivio. We will share that link closer to the date and on the day. (Last year's session grid looked like this). 
Campmakers will be onsite to help us keep everything running smoothly (these folks rock, and you can easily identify them by the UKGovcamp rainbow sashes they will be wearing!). 
There will be water, coffee and lunch provided. If you don't like what's on offer, there are plenty of eatery places around the MoJ if you wanted to pop out at lunchtime to grab something. Please bring your own reusable cups/bottles if you have them.
Bringing your child/children to #ukgc20? 
We've chosen NipperBout again as our creche provider. They ran the creche for UKGC19, and were originally recommended to us by EMF Camp. 
If you expressed an interest in the creche (when entering the ticket lottery) then have emailed you details. Please check your inboxes and register for your creche place/s now. If you didn't express an interest and would like to now use the creche then please get in touch.
Crèche drop off is from 09:00 

Pick up is between 16:30 and 17:00

Parents, you'll need to bring a pack lunch for your child – this is probably the safest option as you'll know what your child likes or doesn't like.

Please bring warm/outdoor clothes for your child as the creche staff will take them out for a walk in the park at some point in the day (weather permitting).

The crèche will be held in conference rooms 10 and 11 (ground floor – this is the floor that you'll enter the building on).
Tweeting and live notes!
We'll be tweeting, taking live notes of the sessions, as well as taking photos. Nigel will be our Chief Photographer – keep an eye out for him! If you don't want your photo taken, please pick up an orange lanyard at registration. 
The Session Grid can be found here: Sessions @UKGovCamp 
Convivio have also produced a Mobile friendly version of the Session Grid that you'll be able to access here: https://ukgc20.weareconvivio.com (going live later this week).
For each session and room there will be a dedicated hashtag (to help sort out the information from all the wider #UKGC20 noise) as it's likely we'll get spammed once #UKGC20 starts trending. 
Hashtags will work like this:
General =

#UKGC20

Session = #UKGC20 +s_ (for the session number) +r_ (for the room number)

eg; the hashtag for Session 1, Room 1 = #ukgc20s1r1
But don't worry, we will have campmakers taking live notes from each session and there will be reminders of what hashtag we are using for that session.
There's also the Twitter List for you to follow to make it easier to see who's tweeting about #UKGC20. 
Swapshop
We've done away with swag for quite some time now… but we LOVE folks swapping books and stickers! 
Please bring any stickers you'd like to share, and books you'd like to donate to our Bookswap (and nab something from there for yourself!). 
The Bookswap area is just by the main room (conference room 1, lower ground floor) and we'll have a table nearby for stickers. 
Need a bit of quiet?
We recognise that unconferences such as UKGovcamp can be particularly overwhelming, full of people and lots of noise. Not all of us comfortable with that, so we've set a room aside that can be used as a "quiet" room if you just want to be alone with your thoughts, or just need a bit of peace and quiet to recharge the old brain cells. 
Conference room 13 is the quiet room and you can find it on the ground floor. 
Grovecamp
We're helping to grow a grove of lovely trees in protected sites in the Scottish Highlands and you can join us! If you'd like to plant a tree or make a donation, please visit our grove at https://treesforlife.org.uk/groves/96110/
Saturday evening
The Pub will be the same as Friday's pre-drinks, The Buckingham Arms. We'll be taking over the entire pub.
We shall head there for 17:00 to continue on the conversation of #UKGC20 with drinks and nibbles provided (until the bar tab runs dry) thanks to DXW Digital. After that, you'll have to buy your own.

Sunday and beyond
Your brain will probably be buzzing after #UKGC20. Take the time to rest up, pause and reflect on your experience. It would be great to hear back from you on your experiences of the day. What sessions did you attend? Who did you meet? What did you learn? 
Please blog and tweet about #UKGC20. Share your experiences with the community and keep the conversation going!